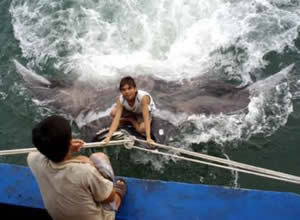 Chinese Fisherman caught
a record breaking Stingray
, weighing in near 3,300 pounds.
A stingray that kills its prey with a giant electric shock has been found off the coast of Britain, it emerged today.

The ocean monster, which generates a power surge so strong it is like being plugged into the mains, normally lives in the warmer waters of the Mediterranean.

Now experts fear shoals of marbled stingray - a relative of the fish that killed Australian crocodile hunter Steve Irwin - will invade Britain this summer due to global warming.
So British readers, be careful at Brighton.