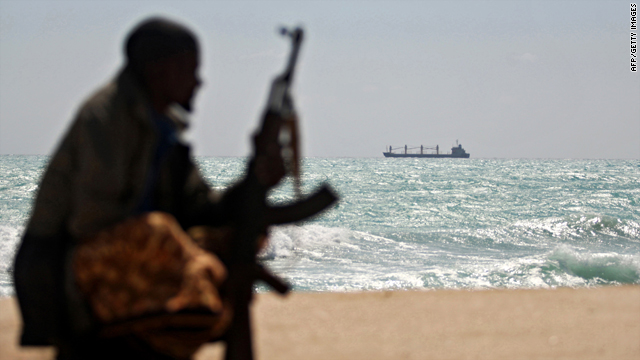 There's been plenty going on in the world of piracy: Pirates have captured ships from:
the UK
,
Norway
,
Dubai
, and many others. Pirates have released ships from:
North Korea
, the
Virgin Islands
,
Taiwan
, all after receiving ransoms. The UN forces patrolling the area have
sunk pirate ships
,
captured pirates
,
rescued pirates
,
freed a ship
and
sunk still other ships
.
The EU naval forces have adopted a
new strategy t
o fight pirates
:
The new tactics by the European Union naval force comes after Spain - which currently holds the EU's rotating presidency, and whose fishing vessels are frequent pirate targets - encouraged more aggressive pursuit of pirates and the coalition obtained more aircraft and other military assets, said Rear Adm. Peter Hudson, the force commander.

The EU Naval Force attacked 12 groups of pirate vessels, which normally includes several skiffs and a mother vessel, this month, more than last year. Half of those attacks were on the high seas and half close to shore, reflecting the new strategy to intercept pirates before they reach deep water and international shipping lanes.
And while attacks have increased, the percentage of
successful attacks declined in 2009
:
There were 198 attempts at piracy in the vast region last year, a 62% increase from 2008, but only 44 attempts were successful. In 2008, there were 122 attempts and 42 successful acts of piracy.
But there's more than just the reports of the events of the skirmishes in the Gulf of Aden, also in the news are Paul and Rachel Chandler, a British Couple captured by pirates. Mrs. Chandler claims that a pirate
attempted to sexually assault her
, and
Somali president Sheikh Sharif Sheikh Ahmed claims
that efforts are being made to free the couple.
Pirate gangs are also increasingly attacking WFO and UN aid caravans
,
Pirates have been a growing problem off Somalia's coast for the past two years, hijacking dozens of ships and collecting tens of millions of dollars in ransom payments. Mr. Smerdon said the pirates, aided by the "local community," attacked the food trucks after they dropped off emergency rations in central Somalia, and Somali officials said the pirates wanted jailed colleagues released in exchange for the trucks and the drivers...

Somalia's aid operation, one of the biggest in the world, seems to be constantly running into new obstacles. In January, the World Food Program pulled out of several areas of the southern part of the country, saying that its Somali staff was being threatened by Al Shabab, an Islamist insurgent group known for chopping off hands and detonating suicide bombs.

In the past two weeks, trucks carrying food aid have been turned back from checkpoints outside of Mogadishu, imperiling a lifeline to hundreds of thousands of displaced people. United Nations officials said it was Shabab fighters who were blocking the deliveries, though Somalis in the area said some of the checkpoints were manned by Hizbul Islam, an extremist group that often works with the Shabab.
By attacking internationally supported groups, pirate gangs have an opportunity to leverage the political clout of these organizations to attempt to pursue new goals, like the release of prisoners. Which leads into the continuing quagmire of legal enforcement and trial of pirates. A
Somali Court has given 15 year sentences to a group of 11 pirates
:
Prosecutors at the court in Berbera, in the breakaway northern state of Somaliland, brought a number of charges against the men, including piracy and attempted armed kidnapping.

They showed the court photos obtained from NATO naval forces showing the pirates when they were arrested last December.

"The trial, which lasted a week, was finally concluded today after the evidence brought before the court showed that the eleven were involved in piracy and hijacking. The court finally announced its verdict -- a jail term of 15 years each", Osman Ibrahim Dahir, the presiding judge, told AFP by phone from Berbera.

The pirates were detained last December after they attacked an international naval force ship mistaking it for a commercial ship off the Somali coast.
and, resolving part of the question of "where do you try a pirate?"
Kenya has taken "a step of great responsibility" by agreeing to prosecute suspected pirates, a US State Department official said on Thursday.

The comments by Mr Tom Countryman, the principal deputy assistant secretary of state for political-military affairs, are among the few positive expressions that the US has voiced recently in regard to Kenyan government actions.

... "We recognise, in particular, that Kenya has stepped forward and offered itself as a site for the prosecution of suspected pirates," he said.

Nearly 300 Somalis suspected of piracy have been captured in the past year, with most having been turned over to Kenya, the US official noted.
While Kenya may offer part of the solution to this problem there are a bevy of other legal questions to resolve, for instance:

the US Supreme Court is s questioning whether a former prime minister of Somalia can be sued in U.S. courts for allegedly overseeing killings and other atrocities.

Mohamed Ali Samantar was defense minister and prime minister of Somalia in the 1980s and early 1990s under dictator Siad Barre. But he now lives in Virginia, and some of his victims have sued him under the Torture Victim Protection Act.

Samantar claimed immunity as a former foreign government official. His victims say that immunity doesn't count, because he is no longer a Somali official, and that foreign immunity is for countries, not people.

Justices, however, wondered how they are supposed to draw a line between suing a country, and suing the people who act on behalf of that country.